Gregory Sawka, CPSS
4511 S. Indian River Dr.
Ft. Pierce, FL 34982
Cell: 772 359-0038
Fax: 772264-8074
E-mail: gsawka@juno.com
Area of Specialization:   Soil investigations & interpretations, Wetland Delineation & permitting, Hydric soil & wetland training, Expert testimony, Project resolution and evaluation of drained wetlands, Minimum flows and levels floodplain studies, Soil mapping, Evaluation of On-site Wastewater Systems.
Experience:    Soil mapping-Research-Training-Hydric soils & Wetland Delineation Southeast Soil & Environmental Service, Inc, (1984 to present) Private Consultant.  Site feasibility studies, environmental /agricultural permit facilitation & wetland restoration, Hydric soil & wetland ID, on-site sewage system evaluations, expert testimony, hydric soil training, minimum flows and levels floodplain studies.
South Florida Water Management District (1989 to 1999) Environmental Analyst/Soil Scientist. – Implement wetland delineation rule; Formal Wetland delineations; Environmental resource permitting- agricultural surface water management systems, project evaluation & resolution, staff training, Ag BMPs & water quality research, project management.
Citrus County Planning and Zoning Department (1988 to 1989) Soil Scientist. Dredge & fill monitoring, environmental compliance, ordinance writing /development. University of Florida (1983 to 1986) Graduate Research Assistant.  Soil-water table dynamics- research & training.
Missouri DNR (1981 to 1983) Soil Scientist. Soil mapping & classification (National Cooperative Soil Survey Program), manuscript preparation, staff training. Education: M.S. – Soil Science- Genesis & Classification, 1986, UF, Gainesville, FL B.S. – Environmental Science, 1978, Southampton College, Southampton, NY A.S. – Oceanographic Tech, 1974, FL Inst. of Technology, Jensen Beach, FL
Publications and Presentations: Published over 25 refereed & non-refereed publications/ reports involving soil water table relationships, soil spatial variability studies and hydrologic assessments, water quality and agricultural BMPs, wastewater design assessment. Edited FL Wetland Delineation Manual.
Presented numerous topics in hydric soils, soils & septic systems, wetland evaluations, soil spatial variability, soil hydrology and seasonal high water tables, hydrologic and drainage assessment, water quality, nutrient movement.
Professional Organizations:   FL Assoc.of Environmental Soil Scientist – Soil & Water Conser. Soc. of America National Society of Consulting Soil Scientist – FL Assoc.of Environ.Professionals Amer. Water Resources Association – Soil Science Soc. of America
Certifications and Licenses: Certified Professional Soil Scientist-CPSS (ARCPACS 1986-present) Certified COE Wetland Identification and Delineation (COE, NRCS 1998) Licensed Soil Scientist, NC (No. 1177, 1997) GA DHR Environmental Health Section, Soil Classifier (1999) Certified Open Water Diver (PADI, 1975)
Awards and Recognition: Reddy Creek Mitigation Bank- Basic hydric soil concepts & wetland relationships, 2003
Wetlands and Problem Soils, National Soc.Consult.Soil Sci., Feb 7, 2003 Fl Environmental Processional –Soil profiles & hydric soils of Northwest Florida, Workshop, 2002; Soils & Coastal Wetlands of Broward Co Workshop, 2002; Soil & Hydrology Workshop, Orlando 2001 Coordinate 8th Annual Hydric Soils Workshop, West Palm Beach, 1996 Technical & Citizens Advisory Committee for Septic Sys. in Florida Keys, 1993-94 Coordinate National Rural Clean Water Program 10yr. Review, Okeechobee, FL (1990-1992)
Chairman, Lake Okeechobee Interagency Workshops (1991-1993) Lake Okeechobee On-site Sewage Disposal Steering Comm., Proj Mgr. (1990-1993)
Testimony, Deposition or Trial:
Mar 11-12,2009  Molica Parcel, Wetland Impacts Adm.Trial vs. SJRWMD
Jun 14, 2008  DEP State Lands in Estero Bay, Snook Bight.
Provided Preliminary Soil Interpretation Rpt.
Jan 22,  2008  DEP vs. Oyster Bay Land Co., Deposition and field assessment
Apr 26,  2007  Hernando County, Hickory Hills Development, swore witness
Jan 27,  2005  DEP vs. David Smith, (trial & depositions), OHWL, Lk. Pointsette
Dec 18,  2003  SFWMD v. Suggs (deposition), Hydric Soils and Soil Interpretations
Feb 27,  2002 Noberto Azqueta,Jr. v.COE (appeal review testimony) Circa 1986 Citrus Co. Landowner vs. FL Rock Industry (deposition), Soil hydrology Study and Flooding.
---
Donna M. Smith, PG
Southeast Soil & Environmental Service, Inc.
4511 S Indian River Drive
Ft. Pierce, Florida 34982
Voice: 772 461-1092
Fax: 772 264-8074
Cell: 772 359-3284
E-mail: donna.m.smith@comcast.net
Area of Specialization:   Soil & water conservation, agricultural & environmental project management including implementation of Best Management Practices, hydrologic studies, soil investigations & interpretations, & wetland restoration.
Experience: 2002 – 2009 USDA NRCS, Ft. Pierce, Florida. Managed Treasure Coast RC&D Council, an environmentally focused not-for-profit by coordinating $16,000,000 in multi-agency construction projects and habitat restoration including canal bank restoration under the Emergency Watershed Program (Section 216 of Public Law 516).
1997-2002 USDA NRCS, Ft. Pierce, Florida. As District Conservationist for Martin & St. Lucie Counties, Florida, responsible for administering Farm Bill Activities putting $20,000,000 worth of Best Management Practices on farms and ranches and enrolling 1000s of acres of land into permanent conservation easements. Wrote and administered Farm Plans and Wetland Restoration Plans.
1983 – 1997 USDA NRCS, Gainesville, Florida & Ft. Pierce, Florida. As State  Hydrologist, completed six flood plain management studies in Volusia, Sarasota, Lee, & Seminole Counties under the authority of Section 6 of Public Law 83-566. Ran hydraulic (HEC2 & WSP2) and hydrology (HEC1 & TR20) computer models. Initiated Land Treatment Watershed projects in the Panhandle and water quality projects in support of the Indian River Lagoon National Estuary Program.
1979 – 1983 USDA Forest Service. As Soil Scientist on the Mark Twain Nation Forest, Missouri, mapped 1000s of acres of soils and provided recommendations for silvicultural activities. Participated on fire suppression team as forest fire fighter & chainsaw operator in fire cleanup activities.
1975 – 1979  Assisted in water quality research for USDA Agricultural Research Service & University of Missouri in Columbia, MO & taught high school math & science in Berlin, Maryland & Springfield, MO.
Education: Post Masters – Geohydrology, 1985, Wright State University, Dayton, OH
M.S. – Forest Hydrology, 1983, University of Missouri, Columbia, MO B.S.  – Marine Science, 1975, Stockton State College, Pomona, NJ
Licenses:    • Professional Geologist License number 150, State of Florida. 1988.
• Missouri State Teaching Certificate, Lifetime-Biology, Earth Science,2 yrMath,Chemistry,Physics
(Certifiable). 1977.
• New Jersey Teaching Certificate, Lifetime-General Science. 1975.
•NAUI & YMCA Scuba Diving Certificate-Lifetime. 1972.
---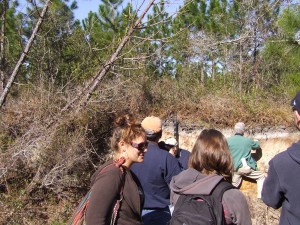 Ashlyn E. Smith-Sawka
E-mail: asmithsawka@ufl.edu
Areas of Specialization:
Soil investigations & interpretations, soil pedology laboratory analyses, field sampling
Professional experience:
University of Arizona, Summer Internship 2010, Biosphere 2 Program researching soil-landscape relationships in the Catalina Mountains. Southeast Soil & Environmental Service, Inc, (summer 2009) Private Consultant. Site feasibility studies, environmental /agricultural permit facilitation & wetland restoration, Hydric soil & wetland ID.
University of Florida, Soil & Water laboratory (Aug, 2009 – Dec, 2009) Research Assistant. Subaqueous soil studies and laboratory analysis. Soil and water table dynamics Attorney Office. Fender and Fender, PA. Court document review and assessment, trial and office assistance .
Professional Organizations:
Florida Association of Environmental Soil Scientist Girl Scouts of America Untied States Rugby, U-19 Florida Division
Certifications and Licenses:
PADI, Scuba Certification, 2007
Awards and Recognition:
Girl Scout Gold Award, 2007 State Science Fair, Lakeland, FL 2008 (Oyster research for artificial reefs)
Education:
Associates of Science Degree, (2007 – 2009) Indian River State College, Ft. Pierce, Fl
UF, Soil & Water Dept. Attending in Gainesville in pursuit of B.S. and graduate degree (2009-present)
Course List:
Soil & Water Science, Physics & Chemistry, Calculus & Trigonometry, Micro & Maco Economics, History & Literature; GPA 3.5
Soil Taxonomy- Florida Soils, FAESS, October 23-24,2009
References:
Dr. Mary Collins, MEC@mail.ifas.ufl.edu 352-392-1952
DR. Rex Ellis, rexellis@yahoo.com 352-262-3687
Wade Hurt whurt@ufl.edu 352-392-1951
Helen Marshall, helenmarshallfau@yahoo.com 772-446-2699